"A Christmas Carol" Through the Ages
By Gary Wien,
December 06, 2019
A "Christmas Carol" Through the ages
Whether you have grown up reading the Charles Dickens classic "A Christmas Carol" or have seen it on stage or screen, you've never experienced it the way Reid Farrington presents it.  His take on the holiday story combines the original book with clips from roughly 35 film versions and live actors.  If you're a fan of the BBC television show "Doctor Who" or loved "Scrooged," this version is right up your alley.
Art House Productions in Jersey City presents Reid Farrington's "A Christmas Carol" from December 11-22. The production stars Laura K. Nicoll, Adam Patterson and Zachary Eisenstat, as it runs through more than 100 years of film capturing the Dickens story via a true multimedia experience.
Jersey Arts spoke with Reid Farrington and Laura K. Nicoll.  The two have collaborated together for a decade and she has been part of this production since its debut.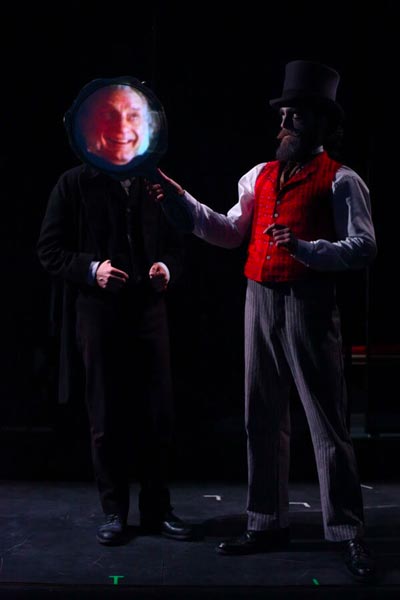 Jersey Arts: My favorite version of "A Christmas Carol" is "Scrooged" with Bill Murray, and your multimedia production reminds me of what it would be like to see that film done live on stage.
Reid Farrington:  "Scrooged" is my favorite as well! I think it does a wonderful job of keeping the heart of the original story and making it accessible for a contemporary audience.  I love that one a lot.
JA: How did you choose the film clips to use and how difficult was it to put this production together?
RF: Well, we wanted to make sure that every line in his original story was said or played in some way.  That was the original construct.  We went through the book and I found lines that were as close as possible to what he originally wrote and then I play lines right after that so you'll hear it from 1935 and then hear it from 1988 so you can get a sense of how time has made its interpretation different.  And, in places where none of the films covered a section, we have the performers say the lines.
JA: How did you first get involved with mixing live action and multimedia?
RF: It probably started when I was seven. It's something I've always loved to do.  I love television, movies and live theatre, and I want to bring them all together. My wife, Sarah, who I collaborate with is a playwright.  I started doing this professionally when I first came to New York.  It was something I did in college in my own work, but it solidified when I started working at a theatre company called The Wooster Group in New York.  I was their video designer for several years before I started making my own projects.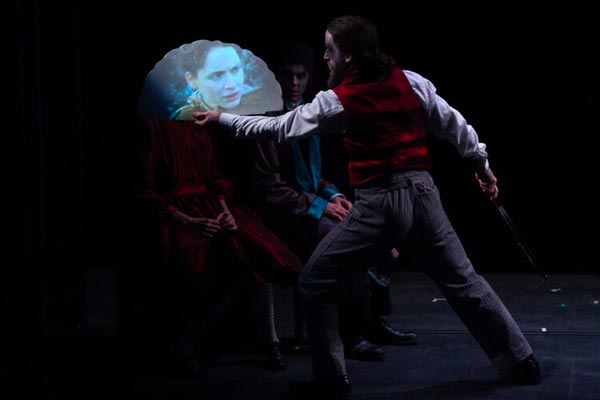 JA: Laura, what's it like being part of this show and how different is preparing for this as opposed to preparing for a regular play?
Laura K. Nicoll: Well, I've never actually been in a regular play! (laughs)
JA: That helps, I guess.
LN: My background is in dance and I think preparing for this work is very close to how I think about more traditional dance performances.  I find that my dance training comes into play as far as being in the right place at the right time and the muscle memory of how to both mimic a character from a film and how to remember where to hold a screen, a projection surface. Those are two important aspects of this work. So the choreography of it – what shape your body has to be in and where you have to be on stage and when you have to be there – forms the basics of how I approach it.  It's very much like all of the dance I've done in my whole life.
JA: It's a pretty intense show to do though, right?
LN: Yeah, it's super intense.  But compared to some of the other work Reid and I have done together, this show is more fun.  I often feel like I'm a kid back in my grandparent's house, putting on a play with my cousins in the summer and we're just grabbing random objects from the kitchen to be the props.  It has that kind of imaginative quality to it.  It doesn't matter that this isn't a realistic set.  We can make this out of whatever we've got around and conjure these characters.  It's intense, but it's also really fun.
JA: Speaking of the projection screen, your website says you describe the video techniques as fitting in well with the Victorian Age.
RF:  The initial idea behind this was a Victorian magic show.  One of the most important things that came out of that was the Pepper's Ghost.  That's a technique they used with a large pane of glass on the stage. They would use lighting to reflect an image of a person into the glass and then would have a live person standing on stage and it would look very ghostly.  It's one of the earliest stage techniques that allowed for a real specter to be present.  That, among other things, is why I think it fits in well with Victorian magic shows and Victorian stage effects.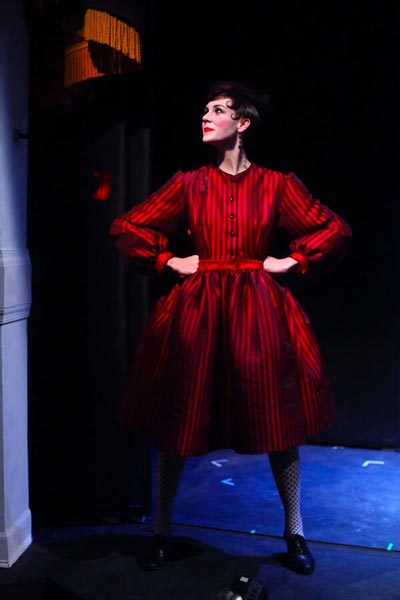 JA: I like the multimedia approach you take better than the idea of holograms acting on stage.  Your production seems more interactive.
RF: Well, it engages you intellectually.  You're not just a witness to an event, you're a participant because we're not giving you a complete picture - you're only seeing snippets of these films.  You're filling in the blanks and filling in the memory of what it was like when you saw it in its complete form.  Where the introduction of holograms and bringing people back to life might fall short is that they're trying to provide you with a complete event.  We are relying on your memories and feelings of the original event versus the complete picture where you don't have that role.
Watching this show is a lot of fun.  It is a trip down memory lane.  You're like "Oh, I saw that one" or "What's that one?"  People just leave really entertained.  It's a wonderful holiday experience, but it is made for the two screen generation - people who like to watch movies and look at their phones and look up things on Wikipedia at the same time.  It's made for that attention span and we are constantly bringing you back in by showing you different ways of using media and storytelling in a live performance.
JA: I saw at least one cartoon clip in the show, do you have a few?
RF: We have Mickey Mouse, Fred Flintstone, Mister Magoo and Jim Carrey - not a cartoon, but from his animated film.
JA: Laura, "Scrooged" is Reid's favorite version, do you have a favorite version?
LN: I don't and I know this blasphemy, but I'm not sure I've watched one of the movies all the way through ever in my life!  But I love being in this show and I love the scenes from the Thomas Edison silent film version.  Those are always interesting for me to watch in the show.
JA: Finally, are you still updating the show or have you reached a point in which you think you cover enough ground even if new films come out?
RF: That's a good question.  I don't think we will be updating it for this version, although it's always out there in our minds.  Since we haven't done the show in many years, I'm sure there are four or five new ones by now.  But I think the structure of this remount is entertaining enough for us.  We're really enjoying it.
Reid Farrington's "A Christmas Carol" runs December 11-22 at Art House Productions (262 17th Street in Jersey City, NJ).  Tickets are $30-$40 standard; $25 for senior citizens; and $18 for students. Tickets are available at www.arthouseproductions.org or by calling the box office at (201) 918-6019
SPECIAL EVENTS
12/13: Opening Night tickets ($50) include an exclusive post-show mix & mingle with the team. First drink on Art House!
12/14: Post-show discussion with the artists following the 3 p.m. matinee.
12/15: Special Holiday Dinner tickets ($75) include a ticket to the matinee and post-show holiday meal (including unlimited wine and buffet dinner). GP's Italian Restaurant will provide an Italian feast likely including pasta, salad, bread, etc. 
12/21: Post-show discussion with the artists following the 3 p.m. matinee.
---
About the author: Gary Wien is a music journalist from Belmar, NJ. A three-time winner of Asbury Music's Music Journalist of The Year, his writing and photographs have been seen in publications like Upstage Magazine, Backstreets Magazine, Gannett Newspapers, and Princeton Magazine. He is the also the author of two books: Beyond The Palace (about the history of rock music in Asbury Park) and Are You Listening? (his picks for the Top 100 Albums of 2001-2010 by New Jersey Artists) and is the publisher of New Jersey Stage magazine.

 

Content provided by

Discover Jersey Arts

, a project of the ArtPride New Jersey Foundation and New Jersey State Council on the Arts.